Latest news
Pope Plant involved with the largest AD Lagoon in Europe.
Inviting Pope Plant to help with the build of the largest AD Lagoon in Europe, the customer is not disappointed.....
Another satisfied customer, Pope Plant prides itself on working WITH their clients not just FOR them.
Pope Plant is nearing completion of an Anabolic Digestive Lagoon located in Kent.
Craig Pope, Company Director states "It has been a privilege to be part of this exciting new venture in renewable energy".
The new systems will be a way of generating energy from waste products.  It is a cutting edge design in renewable energy and one of the first of its kind in Kent.
Pope Plant has risen to the challenge and is very proud of the end result and service they have given on this project.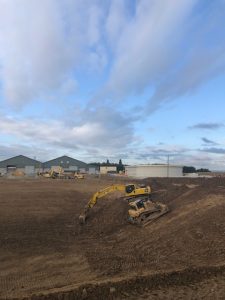 By listening attentively, offering sound advice and working with the client and all other experts involved in this project means that once again Pope Plant has succeeded in gaining another happy and satisfied customer to its portfolio.
To speak to Pope Plant about any of your Earthwork or Landfill projects no matter how big or small do not hesitate to contact us
01622 730611 – email craig@popeplant.co.uk